FOR IMMEDIATE RELEASE: August 4, 2021
Contact:
Fernanda Durand
(214) 402-0186
fernanda@communicationsshop.us
Hispanic Federation President & CEO Frankie Miranda Meets with President Joe Biden and Vice President Kamala Harris at the White House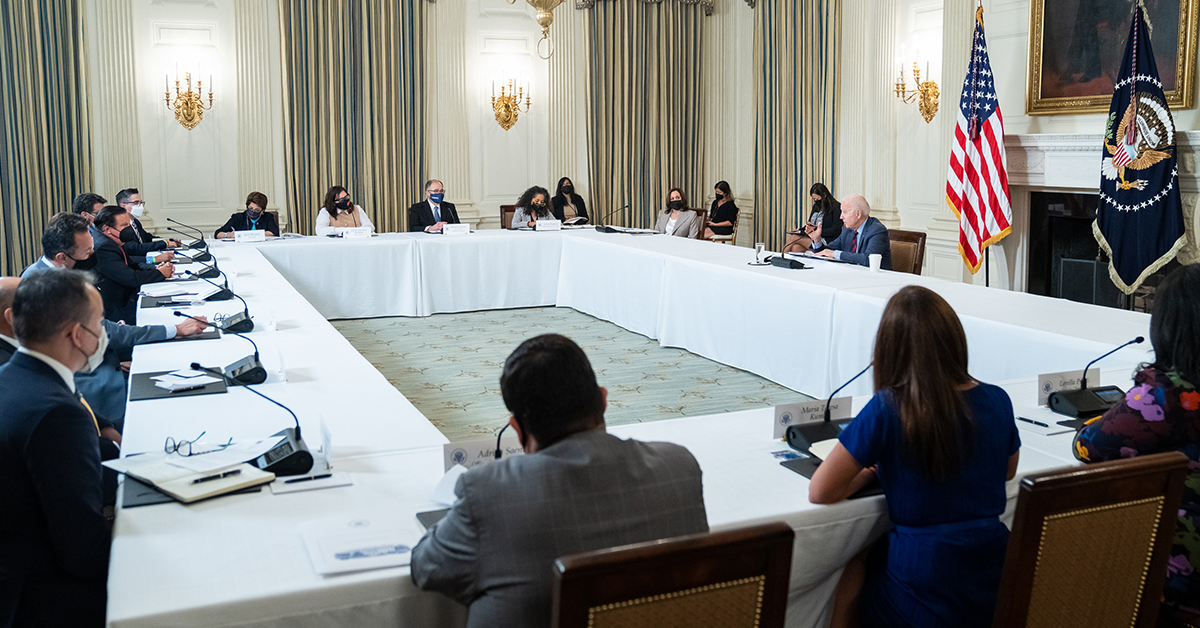 WASHINGTON—Hispanic Federation President and CEO Frankie Miranda met with President Joe Biden and Vice President Kamala Harris at the White House this week, along with 11 other national Latino leaders to discuss key issues impacting the Latino community. Topics discussed at the meeting included the economy and the President's Build Back Better agenda; equitable treatment of Puerto Rico; climate change; a pathway to citizenship for Dreamers, TPS holders and essential workers; voting rights; Latino representation; and the 2019 shooting in El Paso, Texas.
"Today I, along with other national Latino leaders, had the opportunity to meet face-to-face with President Biden and Vice President Harris for an in-depth discussion of the most important challenges and opportunities ahead for the Latino community. While the Biden administration is off to a great start on so many of the issues we care about, we encouraged the President and the Vice President to go farther in addressing the obstacles that Latino families are grappling with in the midst of the COVID-19 pandemic to ensure America is built back better for all of her people."
Miranda praised the President for his efforts to enact his Build Back Better agenda including his efforts to pass the American Families Plan which will invest in teachers and students, ensure two years of free community college, two years free pre-school, empower workers and their families, and create a more equitable economy.
Miranda also pressed the President and Vice President to ensure the U.S. citizens living in Puerto Rico are able to benefit from the White House's Build Back Better agenda in an equitable way as compared to the rest of the country. "I asked President Biden and Vice President Harris to achieve parity for Puerto Rico in federal programs by directing the Justice Department to stop defending the U.S. v. Vaello-Madero case as it heads to the U.S. Supreme Court," stated Miranda. "The 1st Circuit Court has ruled that it is unconstitutional to discriminate against an American citizen based on where they live within the U.S. and we believe the Biden administration should let that ruling stand."
"We had an excellent meeting with President Biden and Vice President Harris and we came away feeling that they are truly committed to addressing the needs of Latinos and indeed of all communities in the United States," said Miranda. "We look forward to continuing this productive dialogue."