HF Welcomes New National Director of Advocacy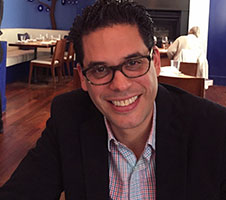 Many of the most important issues facing Latino communities are being debated in Washington, D.C. That's why Hispanic Federation has made a commitment to have a strong presence on Capitol Hill over the past decade. Our presence is about to get stronger. Last week, Hispanic Federation President José Calderón announced that Richard Morales would be HF's new National Director of Advocacy. Rich will manage HF's Washington, D.C. office with a focus on developing and implementing the organization's federal legislative priorities.
"We're really happy to welcome Rich to the HF family," said Calderón. "Hispanic Federation has become a leading voice in Washington on a number of issues that have a direct impact on our member agencies and the communities they serve. With Rich on board, we have added an experienced policy and legislative expert to our team who can expand our efforts and reach."
Rich is an immigration attorney and has dedicated his career to serving the legal needs of the immigrant community in both the private and non-profit sectors. Before joining the Hispanic Federation, Rich was the Detention Prevention Coordinator for PICO National Network. In his role with PICO, Rich led the federal immigration enforcement policy priorities for the network, advised member groups on immigration enforcement policy such as the Priority Enforcement Program, and liaised with the administration, congressional staff and other governmental agencies. He also created and supervised the Detention Prevention Program. Through the program, Rich helped organize grassroots campaigns around individual cases to stop the deportation of members and share their stories with policymakers and the media. As a result, PICO National prevented the deportation or ended the detention of scores of members.
A native of Philadelphia, Rich received his B.S. at West Chester University of Pennsylvania, and J.D. from Rutgers Law School-Newark. Rich currently resides in Arlington, Virginia with his wife Sara and son Lorenzo.
"I'm happy to join Hispanic Federation at a moment when we really need to raise the volume on Latino issues in Washington," Morales said. "HF's work on the ground in Latino communities is highly respected and its reputation on Capitol Hill is important and established. I really want to build on that reputation to educate policymakers on what matters most to Latinos."